Editorial
Keywords:
Editorial of Number 1 Volume 7 of Latin-American Journal of Computing
Abstract
We reached 100 scientific papers published!
A scientific journal aims to disseminate knowledge, ensuring the proper development of the evaluation process as an essential component to guarantee the validity of its content.  The heart of our journal is to motivate the scientific production of original articles and their dissemination. This is what we have reflected in the 16 issues published over these six years, on a semi-annual basis, in which we have reached a total record of 101 contributions.  The Journal LAJC, sponsored by the Faculty of Systems Engineering of the "Escuela Politécnica Nacional del Ecuador", since its launch in late 2014, publishes an average of six to seven articles per issue. Beyond the implications caused due to the global health emergency caused by COVID-19, we present Volume VIII, Number 1.  In September 2019, I was entrusted with the responsibility of being the  Editor of the journal, transferring the responsibility to a work team that  contributed to the creation of a renewed and avant-garde image in  accordance with the latest technological developments that are emerging  in our time.  We have successfully achieved indexing in the Latindex catalog database with methodology 2.0, and inclusion, once again, in the Directory of Open Access Journals -DOAJ. In line with the international requirements for indexing databases, we have regulated the periodicity. In short, we are bringing a new beginning to the journal and, in this issue, the 100th article is published.  These results, in addition to rejoicing and encouraging us to go for more, remind us of gratitude to those who laid the foundations of the journal, as well as to those who contribute every day to LAJC.  I cordially invite you to take advantage of the reading of this issue that  includes eight research articles related to relevant topics on: process  mining, data analysis, service orchestration, AAL assistive technologies,  natural processing language, data migration and cybersecurity.  Finally, on behalf of the LAJC team, our best wishes that during this 2021 we can continue to share scientific production with a renewed spirit.   
Downloads
Download data is not yet available.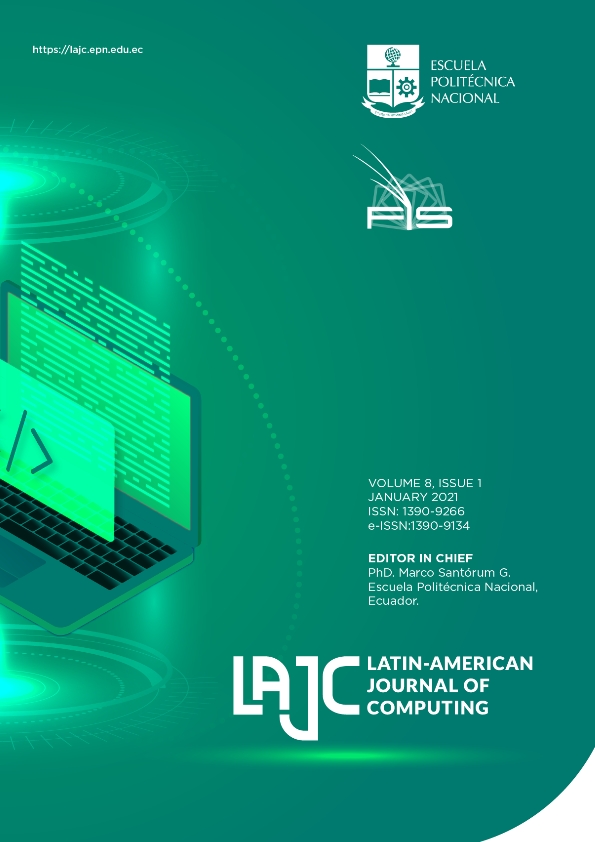 Section
Research Articles for the Regular Issue
By participating as Author (s) in LAJC, non-exclusive copyright is transferred to the National Polytechnic School, represented by the Department of Informatics and Computer Sciences, to publish the material submitted by the Author (s) on institutional websites, or print materials from the institution.
The National Polytechnic School and the Department of Informatics and Computer Sciences, ensure that the material will not be released, nor will be used internally for profit through paid subscriptions. The material sent will be used only for academic and scientific purposes.