Recognition of necrotic lesions for the detection of the thrips plague in peas using the deep learning model yolov4-tiny
Keywords:
necrotic lesions, plague thrips, deep learning, yolov4-tiny
Abstract
At present, the monitoring of crops in agricultural plots remains one of the most important tasks that precision agriculture has since through it is possible to perform the estimation of the yield and the prediction of crops. Due to the complicated atmospheric conditions and climatic factors that the sector presents, the early detection of pests and diseases has become a considerable challenge that producers must constantly assume. This research proposes a rapid and effective necrotic lesion recognition system for the early detection of the thrips infestation in peas by implementing the yolov4-tiny deep learning method. The results obtained by the developed system showed that the IoU (Intersection at the Union) is 59.23% for an mAP (Medium Precision) of 87.8% in a high-density data set. In addition, each of the values ​​delivered by the system was compared with a prescribed diagnosis that was made by an expert in crop production through direct observations of the pea. In this way, it was established that the system is 80% effective.
Downloads
Download data is not yet available.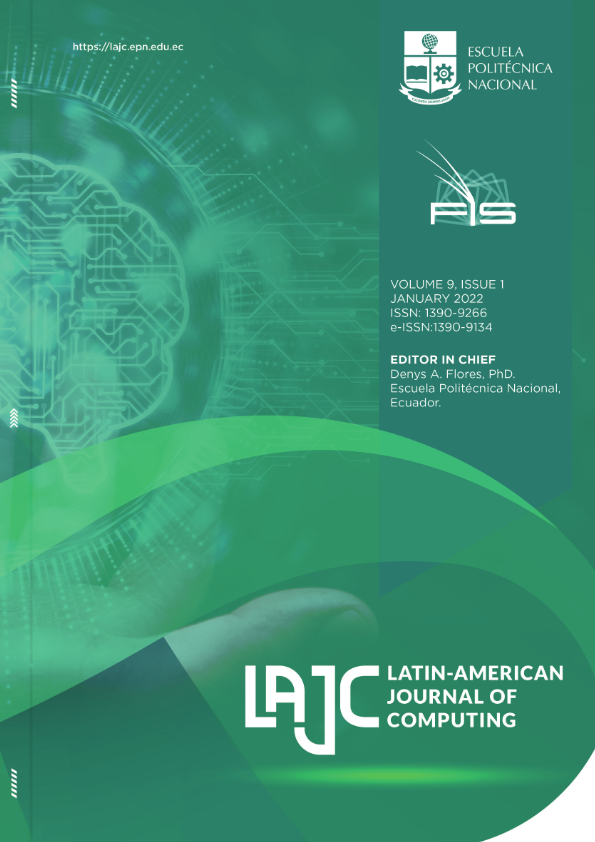 Section
Research Articles for the Regular Issue
By participating as Author (s) in LAJC, non-exclusive copyright is transferred to the National Polytechnic School, represented by the Department of Informatics and Computer Sciences, to publish the material submitted by the Author (s) on institutional websites, or print materials from the institution.
The National Polytechnic School and the Department of Informatics and Computer Sciences, ensure that the material will not be released, nor will be used internally for profit through paid subscriptions. The material sent will be used only for academic and scientific purposes.