Development of a System for Strategic Surveillance of Social Networks and Digital Press Media using Web Scraping
Keywords:
Strategic Surveillance, Information Gathering, Social Networks, Digital Media
Abstract
The "Tyche" research program has the objective of creating a tool environment to carry out activities that facilitate the tasks of Strategic Surveillance. At present, the ADA laboratory of the Systems Engineering Faculty (FIS) of the EPN is executing several integrating projects distributed in different phases. The present integrative project is within the third phase called "Information Collection". The objective of the project is to develop an automated information collection system, optimizing search times and reducing information overload. This search will be done on digital media and social networks (Twitter, Facebook, Instagram, and LinkedIn). In addition, the purpose is also to obtain information that is easy to interpret, generates knowledge, and contributes to the organizations that use Strategic Surveillance.
The degree work is developed under the agile Scrum methodology that will allow partial deliveries of the product incrementally and iteratively, which will help developers to perform the division of tasks and allocation of work time. The system is based on the MVC pattern (Model - View - Controller). The Model part corresponds to Prisma which, is a GraphQL database connection. On the other hand, the Controller has been developed in Python together with the implementation of libraries, frameworks, and APIs, while the View which, is the interaction with the user was developed in the Angular framework and written in TypeScript. programming language.
The developed system was evaluated by the Technology Acceptance Model (TAM). The evaluation showed that more than 80% of the participants considered the system to be easy to use, and 100% perceived it to be useful for the collection of information from social networks and digital media. It is concluded that although there are improvements that can be made to the system, it fulfills its objective.
Downloads
Download data is not yet available.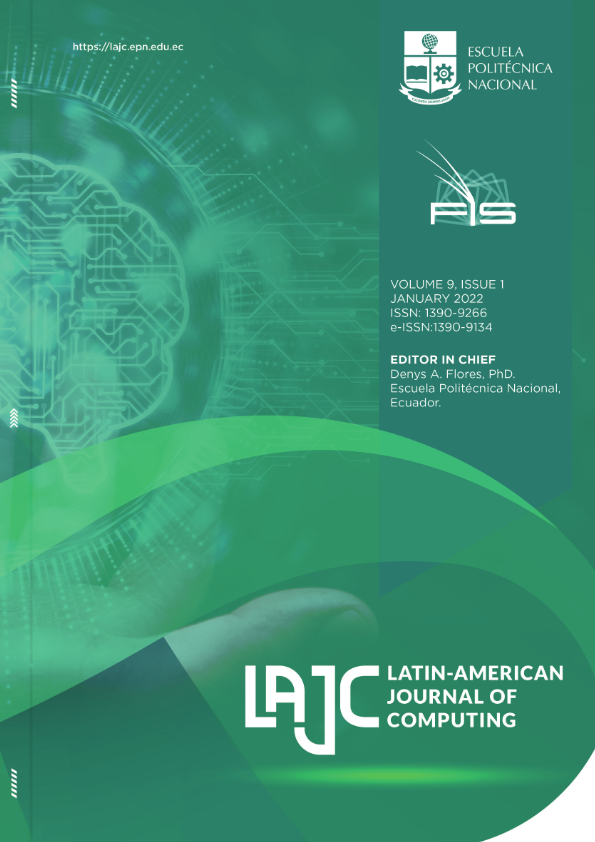 Section
Research Articles for the Regular Issue
By participating as Author (s) in LAJC, non-exclusive copyright is transferred to the National Polytechnic School, represented by the Department of Informatics and Computer Sciences, to publish the material submitted by the Author (s) on institutional websites, or print materials from the institution.
The National Polytechnic School and the Department of Informatics and Computer Sciences, ensure that the material will not be released, nor will be used internally for profit through paid subscriptions. The material sent will be used only for academic and scientific purposes.