Framework Basado en ODA para la Descripción y Composición de Servicios Web Semánticos (FODAS-WS) <br> ODA Based Framework for Description and Composition of Semantic Web Services (FODAS - WS)
Jose Aguilar

Universidad de Los Andes

Omar Portilla

Universidad de Los Andes
Keywords:
Servicios Web Semánticos, ODA Diseño de SWS.
Abstract
Este artículo presenta el Framework FODAS-WS,
basada en la arquitectura ODA (Ontology Driven Architecture).
FODAS-WS es un marco de referencia que sirve para diseñar y
describir Servicios Web Semánticos (SWS) automáticamente. Con
FODAS-WS se busca facilitar las tareas de descubrimiento,
composición y ejecución automática de SWS. Para describir un
servicio se utilizan tres capas de abstracción: CAPACIM,
CAPAPIM y CAPAPSM. La CAPACIM abarca una descripción
semántica del dominio y de las funcionalidades del servicio, y es
descrita manualmente por el diseñador. Las capas CAPAPIM y
CAPAPSM son generadas por procesos de transformación
automáticos, basados en las capas que le siguen en mayor nivel de
abstracción. CAPAPIM usa como insumo la salida de CAPACIM,
y CAPAPSM la salida de CAPAPIM. CAPAPIM tiene un modelo
ontológico para generar el esqueleto del código del servicio, en el
cual se estipulan los métodos y parámetros que el servicio requiere.
CAPAPSM especifica la composición y ejecución automática de
servicios.
Downloads
Download data is not yet available.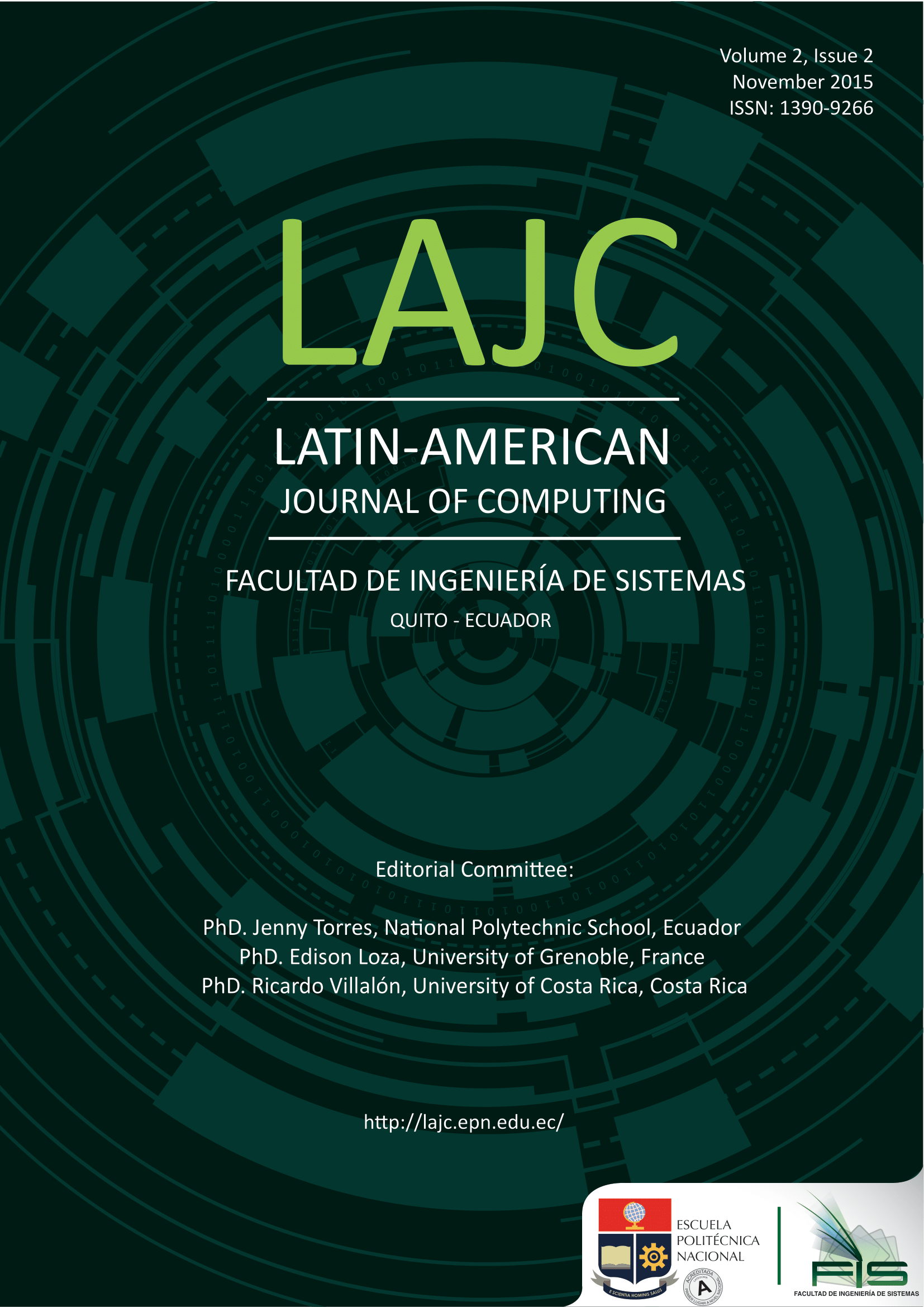 Section
Research Articles for the Regular Issue
By participating as Author (s) in LAJC, non-exclusive copyright is transferred to the National Polytechnic School, represented by the Department of Informatics and Computer Sciences, to publish the material submitted by the Author (s) on institutional websites, or print materials from the institution.
The National Polytechnic School and the Department of Informatics and Computer Sciences, ensure that the material will not be released, nor will be used internally for profit through paid subscriptions. The material sent will be used only for academic and scientific purposes.