Middleware Reflexivo para la gestión de Aprendizajes Conectivistas en Ecologías de Conocimientos (eco-conectivismo) <br> Reflective Middleware for Managing Learning Connectivism in Knowledge Ecologies (eco - Connectivism)
Jose Aguilar

Universidad de Los Andes

Diego Mosquera

Universidad Nacional Experimental de Guayana
Keywords:
Clustering (agrupamiento), Conectivismo, Ecología de Conocimiento, Entorno Personal de Aprendizaje, Middleware Reflexivo, Minería Web, Sistemas de Recomendación
Abstract
En este artículo se propone la arquitectura de un
Middleware Reflexivo basado en computación autonómica, cuyo
objetivo es gestionar un ambiente conectivista de aprendizaje,
modelado bajo el paradigma de las ecologías del conocimiento. El
Middleware es capaz de monitorear el ambiente que consiste de un
conjunto de Entornos Personales de Aprendizaje que son
percibidos como objetos auto-organizados que forman
ecosistemas. La evolución del proceso de aprendizaje depende del
análisis del comportamiento Web de los aprendices, y de un
esquema de supervivencia ecológica que promueve las relaciones
sociales, diversidad y tolerancia en un dominio de conocimiento
socializado. El middleware utiliza minería web de uso para
caracterizar el comportamiento del aprendiz, técnicas de
agrupamiento para los ecosistemas de aprendizaje, y un sistema
recomendador cognitivo-colaborativo para el proceso de autoadaptación
de las estrategias de aprendizaje.
Downloads
Download data is not yet available.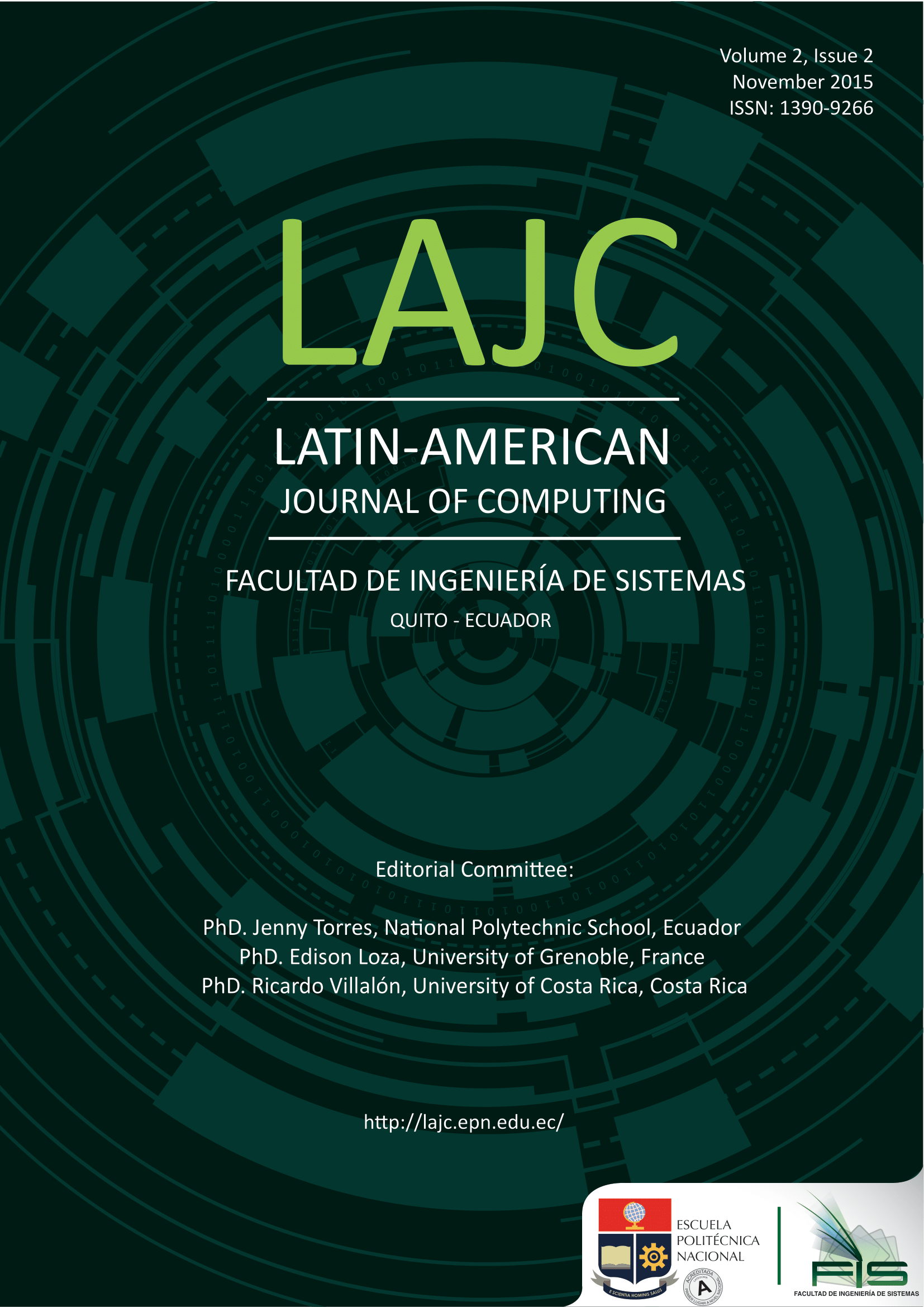 Section
Research Articles for the Regular Issue
By participating as Author (s) in LAJC, non-exclusive copyright is transferred to the National Polytechnic School, represented by the Department of Informatics and Computer Sciences, to publish the material submitted by the Author (s) on institutional websites, or print materials from the institution.
The National Polytechnic School and the Department of Informatics and Computer Sciences, ensure that the material will not be released, nor will be used internally for profit through paid subscriptions. The material sent will be used only for academic and scientific purposes.